Kenny is about to get a surprise visitor on The Real O'Neals, as Jordin Sparks is set for a guest-star cameo in an upcoming episode, EW can exclusively reveal.

The singer ("No Air," "Tattoo") and actress (Sparkle) will play herself in a fantasy sequence. As ABC puts it, "Kenny's fear that his relationship with his boyfriend is moving too quickly leads to a fantasy sequence in which he pictures their rut of a future, complete with belly fat, receding hairlines, and way too many lap dogs. Enter Jordin Sparks, whose surprise visit is cut short when she points out that settling down too soon has ruined Kenny's life."

Sparks arrives on the heels of Lance Bass, Jane Lynch, Tyler Oakley, and RuPaul, who also appeared on the show — and in Kenny's imagination.

The Real O'Neals centers on a family going through major self-discovery, kickstarted by Kenny coming out and his parents, Eileen and Pat (Martha Plimpton and Jay R. Ferguson), getting divorced. It airs Tuesdays at 9:30 p.m. ET on ABC.
---
Source: Click Here
View all: Click Here 
Singer Jordin Sparks attends Operation Smile's Annual Smile Gala at the Beverly Wilshire Four Seasons Hotel on September 30, 2016 in Beverly Hills, California.
Jordin Sparks has teamed up with the President's Council on Fitness, Sports & Nutrition to motivate Americans to get healthy and active "One Step at a Time."

On Tuesday, the American Idol alum, hip-hop artist Doug E. Fresh and children's artist Brady Rymer released their new song "Zero to Sixty," and PEOPLE has an exclusive first listen.

"Today's the day to start fresh / Put your body up to the test / You can go fast or slow, it don't matter, get up and go," Sparks sings on "Zero to Sixty." "What are you waiting for? Move your body now / Live free."

The new track will serve as the theme song for the #0to60 Campaign, which marks the President's Council on Fitness, Sports & Nutrition's 60th anniversary of inspiring Americans to get active and be healthy.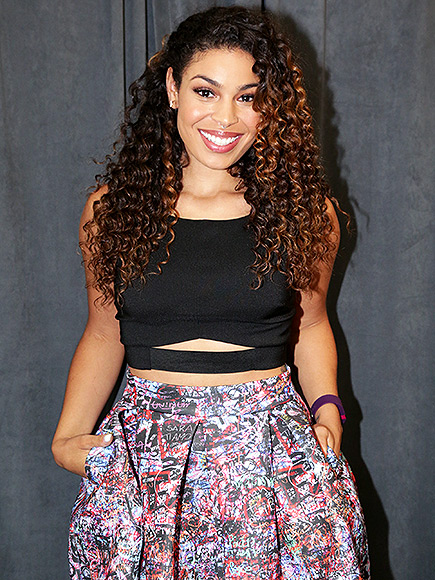 "Adopting a healthy lifestyle continues to be an extremely important personal mission to me, and I am excited for this new song to motivate more kids and families to have fun while being active and healthy together," Sparks, 26, said.

The Council worked with the National Foundation on Fitness, Sports & Nutrition, as well as the nonprofit Hip-Hop Public Health and Sparks – who just launched her own youth empowerment program, M.A.D. Kids (short for "making a difference") – to create the healthy living anthem.

---

Source: Click Here
View all: Click Here
Jordin Sparks poses backstage at the 2016 Starkey Hearing Foundation 'So the World May Hear' awards gala at the St Paul RiverCentre on July 17, 2016 in St Paul, Minnesota.
I would like to say one thing first. If you guys don't see the updates on my page what I mean by updates is latest photos remember to look in the gallery because I don't do main page posts right away at this moment since I'm doing summer school.  Jordin attended the 13th Annual McDonald's 365 Black Awards on July 1st check out the photos below.
View all: Click Here
"Actress Jordin Sparks attends the 13th Annual McDonald's 365Black Awards on July 1, 2016 in New Orleans, Louisiana."
Jordin was featured in Toddrick Hall's Straight Outta Oz Film/Video towards the end but the whole visual video was truly remarkable. To view the whole video click here. I have added 100+ screencaptures from Jordin's part in the gallery.
View all: Click Here
See the music video for "Water Guns"
On Friday June 17th Jordin took part in Pride Fest in Kentucky where she performed various songs such as old and new songs from her latest album "Right Here Right Now" and her other two albums.
View all: Click Here
Jordin Sparks performs at the 2016 Kentuckiana Pride Festival on June 17, 2016 in Louisville, Kentucky.
Jordin keeps it casual as she departs out of LAX Airport in Los Angeles to perform at two Pride events which one took place on June 16 and the other on June 26th in Chicago.
View all: Click here
On June 9th, 2016 Jordin attended the Amazon original series "All Or Nothing" Premiere Event in Los Angeles, California. All Or Nothing is a film based on the football team Arizona Cardinals obviously based out of Arizona. It hits amazon in July. 
View all: Click Here 
Jordin Sparks (Sparkle) is set to join the cast in faith based film God Bless The Broken Road alongside Lindsay Pulsipher (True Blood), Makenzie Moss (Steve Jobs), and Kim Delaney (Army Wives).  The film will be directed by Harold Cronk (God's Not Dead) and revolves around a grieving widow named Amber whose husband was killed during combat in Afghanistan and now faces financial and spiritual challenges while raising her young daughter, Bree.

Production is currently underway in Manistee and Grand Rapids, Michigan, and Sparks will play the role of Bridgette, one of Amber's best friends.

Sparks was the season 6 winner of American Idol, and made her feature film acting debut in the remake of the musical film Sparkle produced by Debra Martin Chase in 2012, and went on to star in The Grace of Jake, Left Behind, and The Inevitable Defeat of Mister & Pete.  Sparks has also made guest appearances on shows such as CSI , Zoe Ever After, and has been a guest host on E!, News, Wild 'n Out, and Rupaul's Drag Race.

God Bless The Broken Road is produced by Cronk's 10 West Studios, Great Basin Entertainment, and A Really Good Home Pictures.  According to Deadline, the film will be released in theaters late 2016 or early 2017.
---
Source: Click Here