Jordin Sparks has teamed up with the President's Council on Fitness, Sports & Nutrition to motivate Americans to get healthy and active "One Step at a Time."

On Tuesday, the American Idol alum, hip-hop artist Doug E. Fresh and children's artist Brady Rymer released their new song "Zero to Sixty," and PEOPLE has an exclusive first listen.

"Today's the day to start fresh / Put your body up to the test / You can go fast or slow, it don't matter, get up and go," Sparks sings on "Zero to Sixty." "What are you waiting for? Move your body now / Live free."

The new track will serve as the theme song for the #0to60 Campaign, which marks the President's Council on Fitness, Sports & Nutrition's 60th anniversary of inspiring Americans to get active and be healthy.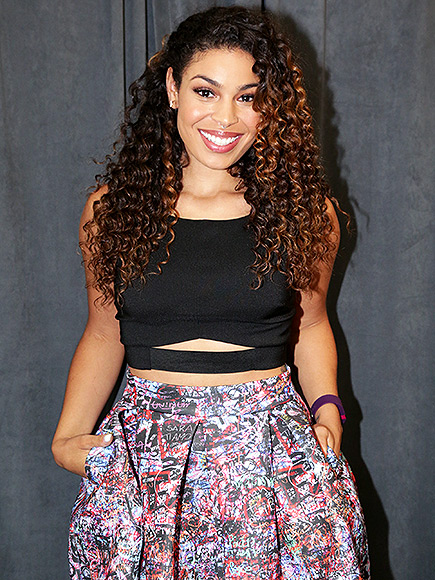 "Adopting a healthy lifestyle continues to be an extremely important personal mission to me, and I am excited for this new song to motivate more kids and families to have fun while being active and healthy together," Sparks, 26, said.

The Council worked with the National Foundation on Fitness, Sports & Nutrition, as well as the nonprofit Hip-Hop Public Health and Sparks – who just launched her own youth empowerment program, M.A.D. Kids (short for "making a difference") – to create the healthy living anthem.

---

Source: Click Here
See that expression of pure joy above? That's what happens when a true beauty lover steps into Allure's product closet, even if said beauty lover is Jordin Sparks. We gave the American Idol star 60 seconds to run wild and pull together her dream beauty haul. What did she grab? A few of our favorite makeup picks, like the Urban Decay Naked Smoky eye-shadow palette and Nars All Day Luminous Foundation. But get this: Out of the approximately ten bajillion eye-makeup options, Sparks also zeroed in on a $7.99 drugstore mascara.
Sparks chose the L'Oréal Miss Manga Voluminous Mascara, a long-wearing mascara that creates a dramatic, doll-like effect. And it was a wise choice: The product is so good, we gave it a Best of Beauty Award last year. Its tapered wand bends to deliver insane length and volume, and the waterproof formula keeps that sexiness from melting halfway down your face (even if your face is constantly subjected to high-intensity stage lighting and/or fog machines and/or special laser effects).
Jordin Sparks has made a career out of age-appropriate pop — catchy enough for the charts, tame enough for your parents. The 25-year-old star's first new LP in six years sees her becoming sexier, sassier and shadier with time. Taking cues from R&B upstarts like Tinashe and Jhené Aiko, Sparks focuses on singing in ways that play off the beats (many supplied by Amy Winehouse producer Salaam Remi), although she still makes time for some of her signature pop belting. On the 2 Chainz-featuring "Double Tap," she laments a thirsty Instagram lurker; the infectious "Boyz in the Hood" aims for hip-hop kitsch. A few ballads drag down the album's momentum and get lost among the bouncy club songs, which either recall DJ Mustard's sound or are actually produced by him ("It Ain't You"). Still, rays of sunshine like the reggae jam "Casual Love," featuring Shaggy, remind us that Sparks is still a girl on fire.

Read more: http://www.rollingstone.com/music/albumreviews/jordin-sparks-right-here-right-now-20150821#ixzz3mlaQOTbb
Below I added only the part Thomas talks about Jordin if you want to see the whole article: Click Here
Rhett's 13-track album includes his hit "Crash and Burn," as well as a few surprising collaborations. The rising country star asked Jordin Sparks, a talented pop singer, to join him on a track titled "Playing With Fire" and told us he was really impressed with her.

"She's great, man," Rhett gushes. "When she came in to sing the song 'Playing With Fire' on the album, it took her like 10 minutes to sing the song. She's just a really talented human being and as sweet as she can be. I couldn't be happier to have Jordin featured on my album."